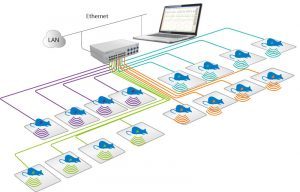 A typical setup includes:
computer, running IOX2 data acquisition software
easyMATRIX3
Analog transducers (optional)
Analog telemetry implants:
Telemetry receivers: One to 4 receivers can be dedicated to a single implant. For rodents, only one receiver is usually placed under the cage, while for large animals, several receivers can be required, depending on the system configuration.
easyMATRIX3 simply connects to your existing telemetry receivers and to your computer through Ethernet. Therefore, an add-on A/D acquisition card is not required.
The easyMATRIX3 contains its own ambient pressure transducer so there is no need for an external ambient pressure reference monitor. Fully calibrated data from DSI implants can be acquired with IOX2 software, eliminating the need for obsolete DSI OpenART software.