Basic digital system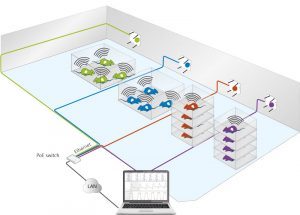 A typical setup includes implants, receivers, an Ethernet switch and an acquisition computer.
A single ethernet cable provides power and data transmission between the receiver and PC. Cameras can be added for synchronized video recording.
Analog system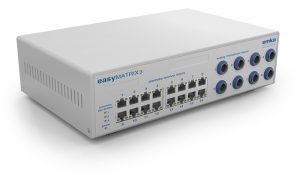 Analog implants are also available for rodents (see our models in the Technical specification section). The analog technique is older and does not allow subject group-housing.
However, it allows to collect and combine synchronized signals from implants and any other source (analog signal, biopotential electrodes, strain gauge transducers) with easyMATRIX3.
This is particularly useful for cardio or neurorespiratory applications. For instance, pleural pressure from an implant and respiratory flow from a head-out plethysmography can be simultaneously recorded, for precise resistance & compliance measurement.
A typical analog setup includes:
Implants: to capture physiological measurements
Receivers: For rats, one receiver per implant is placed below the cage, to receive physiological signals wirelessly transmitted
A computer: equipped with IOX2 acquisition software
An easyMATRIX3: Linked to the computer, it connects up to 16 telemetry receivers and 8 analog inputs (Up to 4 easyMATRIX3 connect to a single computer).
As easyMATRIX3 contains its own ambient pressure transducer, no external ambient pressure reference monitor is required.
Up to 8 analog signals can be simultaneously acquired and synchronized with signals coming from the implant. Additional transducers are therefore added to the basic system:
Biopotential electrodes, for ECG, EEG, or EMG recording (signal is amplified by easyMATRIX3)
Strain gauge transducers (differential pressure or blood pressure transducers), powered and amplified by easyMATRIX3
Analog signals already amplified (connected through Lemo-BNC adapters)